You are here
Students from the Department of Informatics Engineering share experiences on international mobility in Germany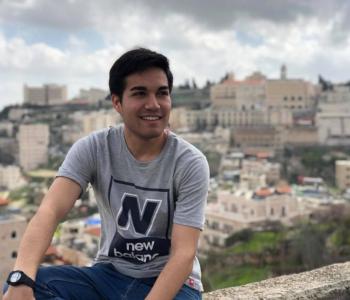 Tuesday, May 26, 2020.
Andrés Muñoz and Cristian Espinoza, informatics engineering students, developed an exchange program during second semester of 2019 at the University of Konstanz, in Germany.
During this interview, they talk about their academic experience and extracurricular activities, how they got to know people from different cultures, and why international mobility is a great opportunity to develop new knowledge and abilities.
How would you describe your overall experience?
Andrés: My experience was amazing. Just in the first day, I had already met many people, and had the chance to have a student tutor who speaks your language and helps you with all the paperwork you need to do. That was something great of the university services. I am very thankful of all the support and the great moments I shared with my tutor. Also, the international office of the university was excellent with exchange students. They were always organizing events and trips to important and historical places of Konstanz and its surroundings, where I could learn about the culture and local traditions.
Cristian: This experience was a success. I had the great opportunity to live this exchange mobility with my friend Andrés Muñoz. More than learning English and a little bit of German, we could learn about the cultures and different kinds of living of all the international friends we made there.
Which extracurricular activities did you do?
Andrés: I travelled a lot during my free days. Cristian, who I lived this experience with, is my friend since I started college in USACH. We spent hours planning our bucket list: places to visit, routs, and transportation across Europe. We wanted to visit as many places as possible on a tight budget. During these trips, we were always with international friends who sometimes invited us to stay in their homes.
Cristian: We had the chance to travel to some places. Sometimes with Andrés, and other with other international friends.
What is the most important value you obtain after doing an exchange mobility?
Andrés: Personal growth and all that you learnt from different cultures.
Cristian: Living in a foreign country on your own. In my case, I could get to know myself by having a different kind of life outside the comfort zone. This helps you to have a personal growth at the end of the student mobility.
Would you recommend this experience to your classmates?
Andrés: I recommend this 100% to all my peers who have the opportunity to develop an exchange program, regardless which university or country. I met a lot of exchange students from different countries who I keep in touch with.
Cristian: I totally recommend this experience that makes you grow a lot, have new friends and travel to other countries as you are a regular student. Finally, I would like to say that this was one of the best decisions taken as a college student due to all the knowledge and personal benefits I acquired at the end.
We thank Andrés and Cristian for sharing their experiences with us. We invite all our students from the department to participate in the open calls of exchange opportunities, so that you can live an unforgettable experience!
Written by Graciela Madrid and Aldo Soriano
Translated by Javiera Díaz
News